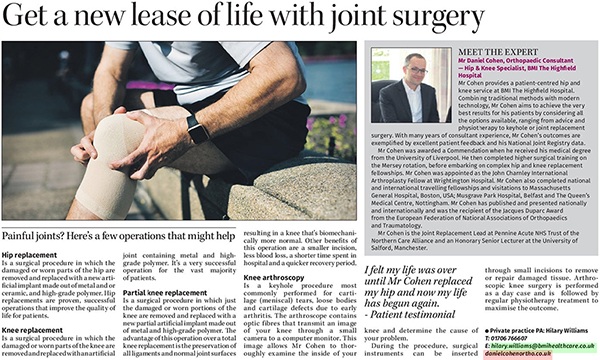 I had partial knee surgery on the 22nd of January, the surgery went really well. My recovery has been exceptional. My other knee now needs doing and I would wait for Mr Cohen to perform the operation. Thank you Mr Cohen for your expertise.
C O
I would like to thank you Mr Cohen for all your care and expertise. I know I was in very safe hands because I believe you are one of God's very special people. Thank you.
Verified Patient
Marvellous. No trouble at all after my hip replacement. I'm pain free thanks to Mr Cohen. Smashing!!!
Verified Patient
I broke my hip when I fell last month. Mr Cohen was marvellous, as were the staff. So caring.
Verified Patient
I was diagnosed with a hip problem as a child and had many operations as an infant/child. I did ok until recently when I developed arthritis in my late teens. I chose Mr Cohen to do my hip replacement because of his reputation and caring nature. Two weeks after Mr Cohen replaced my hip I stopped taking pain killers for the first time in years and my legs are the same length again. Thank you so much!
Verified Patient
I feel champion!!! Only six weeks after my hip replacement I've forgotten I've had it done. It feels normal again. Thank you Mr Cohen for a pain free life.
Verified Patient
It's very emotional for me because I was house bound until I met Mr Cohen who replaced my hip. And now I'm living my life again.
Verified Patient
Mr Cohen did my knee replacement and I am now doing lunges with no problems.
Verified Patient
I am so pleased with my hip replacement. Mr Cohen is wonderful and I am extremely grateful. I fought for Mr Cohen and it was worth it, the result is incredible.
Verified Patient
Excellent
Verified Patient
Mr Cohen replaced my hip which feels amazing. Most of the time I forget it's been replaced. The care I received was faultless and am so grateful for everything.
Verified Patient
Mr Cohen looked after my husband amazingly and even telephoned me straight after his operation to let me know everything went really well. This meant so much to me. I can't thank him enough.
Verified Patient
Despite being nervous about having a partial knee replacement everything went smoothly. I was well looked after and the staff were lovely. My knee feels great and I can do everything I want to.
Verified Patient
The care in the hospital was excellent and my new knee is fantastic. I have no pain and am delighted.
Verified Patient
Mr Cohen has done a wonderful knee replacement. The treatment by his team was fantastic and a year down the line now I am pain free. I am very greatful for everything he has done.
Verified Patient
Following my complex hip replacement, I have recovered a lot quicker than I anticipated. Only 6 weeks after and I have no pain and great movement in the hip. I would be very happy for Mr Cohen to perform any further surgery in the future if required.
Verified Patient
All went fine for me from start to finish!
Verified Patient
We are very happy with all at Mr Cohen has done. He has explained everything in detail on what we can expect from the hip replacement and recovery. He takes the time to explain everything which has been a great help with recovery.
Verified Patient
Mr Cohen is very caring and has given me my life back.
Verified Patient
Wow, after 12 months of agony bone on bone hip pain… Met the Specialist Consultant, Mr Cohen, for diagnosis, very impressed, he promised me operation before Christmas… got phone call, could I go in on 3rd December. Arrived 7 am constant stream of nurses, doctors, care people, 9 am down to theatre, lower of body asleep, but could feel hands… chatting with consultant. Completely at ease with everything and everybody. 2 pm back on ward, meal and drink, well monitored and physio helping me stand. Time now 1.44 pm, four days later, walking around house with one crutch, only pain slightly muscular… Conclusion, out of this world treatment from all involved, so grateful.
B B
She was very keen to see you again as she was extremely satisfied with the care you provided.
C C
Just a note to thank you for the prompt care and attention you gave me at the hospital last week.
B C
It's been a pleasure to meet you and thank you for your help and teaching.
E G
Mr Whelan requested me to convey his thanks and regards to the operating surgeon, Mr Daniel Cohen…
C J
Thank you for all your did to put my hip right again and your team who helped me too.
AW
Thank you very much for your help and prompt service.
K N