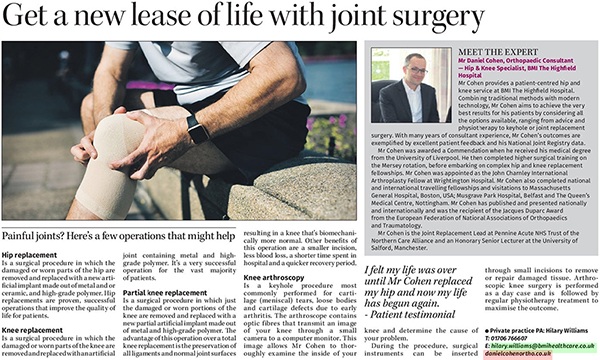 Wow, after 12 months of agony bone on bone hip pain… Met the Specialist Consultant, Mr Cohen, for diagnosis, very impressed, he promised me operation before Christmas… got phone call, could I go in on 3rd December. Arrived 7 am constant stream of nurses, doctors, care people, 9 am down to theatre, lower of body asleep, but could feel hands… chatting with consultant. Completely at ease with everything and everybody. 2 pm back on ward, meal and drink, well monitored and physio helping me stand. Time now 1.44 pm, four days later, walking around house with one crutch, only pain slightly muscular… Conclusion, out of this world treatment from all involved, so grateful.
BB
She was very keen to see you again as she was extremely satisfied with the care you provided.
C C
Just a note to thank you for the prompt care and attention you gave me at the hospital last week.
B C
It's been a pleasure to meet you and thank you for your help and teaching.
E G
Mr Whelan requested me to convey his thanks and regards to the operating surgeon, Mr Daniel Cohen…
C J
Thank you for all your did to put my hip right again and your team who helped me too.
AW
Thank you very much for your help and prompt service.
K N
No records found.